1997,1998 - Jack Felson brought forward plans to develop the Marin Town & Country Club property for a housing project. The plans consist of a cluster of single family homes, not exceeding 79 units and a 14 -acre community park. The townspeople would have to vote to rezone the property from commercial recreation to conditioned planned development if his plans were to move forward.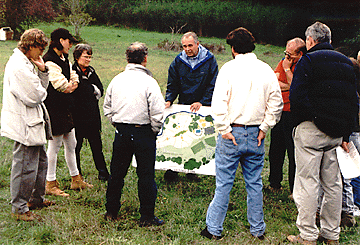 Jack Felson shows local residents plans for his proposed housing & park project.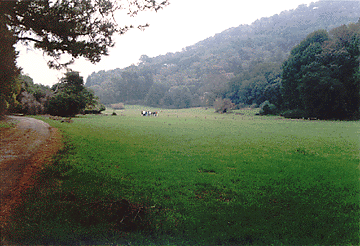 A view of the proposed park area looking southeast.
Click here to see the measure brought to the voters.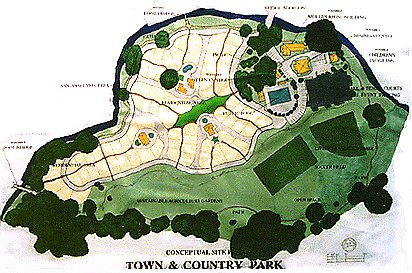 A close up of the plans, the upper area shows where the houses would be located. The lower green area is the park location. The current bridge entrance is located where the gap in the creek is shown at the top of the map.
June 1998
The measure was overwhelmingly defeated by Fairfax residents with a vote of 2,401 to 681 in a campaign that drew 62 percent of the town's voters to the polls.
Only time will tell what lies ahead for the property. We'll keep you updated as the history unfolds.
April 2002
The Marin Town and Country Club has been sold and is now under private ownership.
June 4, 2006 - News - In the local Independent Journal Newspaper
(items will be linked until no longer on IJ site) - Web master
Town Council to debate land sale to country club
The Town Council will discuss selling two plots of land to Michael Mackintosh, owner of the Marin Town and Country Club, when it meets Wednesday.
June 6, 2006
$48 million plan for Fairfax site
http://www.marinij.com/fastsearchresults/ci_3904905
June 9, 2006
Critics, officials howl over country club plan
http://www.marinij.com/fastsearchresults/ci_3917906