The Victoria Memorial Home
---
SAN ANSELMO HEARLD

August 27,1920
---
The Victoria Memorial Home, an organization of former Britishers, organized to provide a home for needy veterans of the late war, last week made a deal for the D. C. Davies property near Manor. The property consists of about nine acres, with a large roomy house, and R. Leach of the Leach Realty Co., who represented the owner of the property, says it will be used as a home for dependent or partly dependent people. The organization had a piece of property near Napa which it intended to use for the purpose, but decided that the climatic conditions and accessibility to San Francisco made the Marin county site more desirable, so the property up there was sold and this purchased. It will be known as the "Victorian Memorial Home." A. J. Lang Realty Co. represented the purchasers in the deal. The consideration is given as $10,500.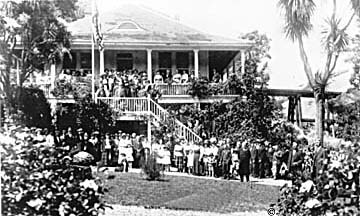 The original home, shown above was demolished a few years ago and the site today has been developed with ten new homes west of White Hill School. Note the railroad trestle to the right of the house. This was built around 1902 when the railroad changed its route and went across the Roy Ranch hay field on this trestle (today's school outdoor basketball area), and over another higher trestle near today's "Trestle Glen" subdivision before going through the new Bothin tunnel to Woodacre.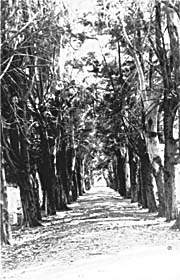 The road leading to the Victoria Memorial Home was lined with eucalyptus trees as shown in this early postcard of the 1920's. Some Fairfax residents may remember the home as the residence of the Bell family when they owned and operated Maiden Lane Kennels on the property.